About Us
We are proud to present the practitioners at the clinic below. Each offer their own expertise and style of approach. Ultimately the single most important factor determining the outcome of your treatment is the relationship you have with your practitioner. It is vital to find the right one for you. Please have a read of our introductions below and feel free to contact us at the clinic if you would like to have a discussion with your practitioner prior to booking in.
When calling the clinic you will likely speak to Catherine (assistant practice manager) or Emma (receptionist) who both keep things running smoothly on the front desk.
Jacqueline Morris MCSP Bsc (hons) - Practice Manager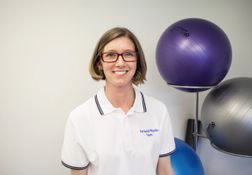 I'm thrilled that the clinic has grown so much since my humble beginnings working from home to now be a professional purpose built clinic with a bustling team. I am proud of our good local reputation and we always like to hear about your stories so do let us know.
With the growth of the clinic more of my time is spent managing the clinic as a whole but I do still really enjoy treating as well. Physiotherapy is such an exciting field to work in as you are constantly evolving and learning. In the near future I plan to invest more into the clinic to enable us to provide further electro therapy treatments (as the ultrasound has been really popular) as well as some more cardio vascular equipment to facilitate rehabilitation and gait analysis.
I am happy to help direct you to the right practitioner so if you are not sure what you need or our specialisms then please do call me at the clinic to discuss further.
Catherine (assistant practice manager) and Emma (receptionist) keep things running smoothly for us on the front desk.
Charles Smith MCSP BSc (hons) - Associate Physiotherapist
We are delighted to announce that Charles now works full time at the clinic. Over the past 3 years at the clinic he has demonstrated a strong aptitude for Physiotherapy and he works hard to get his clients where they want to be. He is constantly advancing his Physiotherapy skills by attending regular further training courses. Prior to working at Fenland Charles gained experience at several reputable London hospitals covering a variety of specialisms. As well as his degree from St George's in London he has a diploma in sports massage. Charles has been a competitive swimmer for many years and has a longstanding interest in sports and fitness. In the new year Charles plans to start running his own Pilates exercises classes so watch this space!
Marjolijn Visser - Acupuncturist and qualified Physiotherapist
I qualified as a physiotherapist in Holland and as an acupuncturist from the University of Westminster in London in 2007. After obtaining a post graduate certificate in medical education, I am now also involved in teaching western style acupuncture to physiotherapists. Acupuncture is now widely used and accepted all over the world. In the UK more and more people are finding out what acupuncture can do for them. I am keen to integrate acupuncture and physiotherapy so that patients can benefit from both approaches. Acupuncture can be really helpful in obtaining pain relief so that exercises to gain strength will be tolerated better. I have an interest in, and enjoy treating running and other sports injuries, back and neck pain, shoulder problems, and other Musculo skeletal conditions.
Angela Lopes HCPC registered Physiotherapist
Profile coming soon...
Richard Knight - full body active release technique provider and soft tissue therapist
We are really excited to have Rich join the team. Rich has undergone extensive training in soft tissue therapy, most recently becoming the only certified full body provider of the Active Release Technique (ART) in Cambridgeshire. Rich has a level 5 diploma in Sports Massage as well as additional skills in instrument assisted massage, fascial abrasion and taping techniques. Hence he is able to provide clients with an all encompassing first rate service, assisting greatly in recovery from injury and optimising performance.
Rich has come from a strong sporting background, having played for the London Blitz American Football team. He has worked with elite level athletes and sports teams but he enjoys helping people from all backgrounds including older persons and office based workers.
ART is a form of massage which can be used to effectively treat a variety of conditions including: tennis elbow, shin splints, plantar fasciitis, hamstring tears, frozen shoulder, headaches and back pain. Watch out for Rich's upcoming blog posts where he will be explaining more about the techniques he uses.
Sarah Hefferon Gillman DIP EASS, M.N.F.S.H.
Sarah is an experienced Therapist, with a natural healing ability, who has continued to train and develop her skills over the last 20 years. This includes Ti-Chi, Yoga, Meditation and Energetic development workshops, assisting in Physio based work outs for the disabled,as well as 5 years specialising in the rehabilitation/treatment of Stroke Sufferers.
Shiatsu-Do Massage a Japanese healing therapy, works on many levels, easing and relieving symptoms, promoting positive changes and helps to maintain good health and vitality.
Where there is injury, poor health or emotional disharmony there will be disruption in the bodies flow of energy - known as Chi. In order to aid recovery and support the individual a variety of techniques are applied to restore this flow, such as, massage, stretches, gentle joint rotations and finger pressure on acupuncture points.
For treatment, removal of footwear and comfortable clothing is required.
Contact Sarah directly for further information or to make a booking:
Tel: 01353 614636 or 07980 930 298
Email: sarahhg@live.co.uk
Facebook: Shiatsu-Do Massage Ely
How to Find Us
Fenland Physio, 36b Forehill, Ely, Cambs. CB7 4AF
We are registered with:
We are registered with Bupa (80021801)
Simply health,
Pruhealth,
Vitalityhealth,
WPA,
Aviva,
Cigna,
Corpore,
Nuffield and,
Axa (via Nuffield fusion).

There are others so please contact the clinic for further information. CB7 4AF